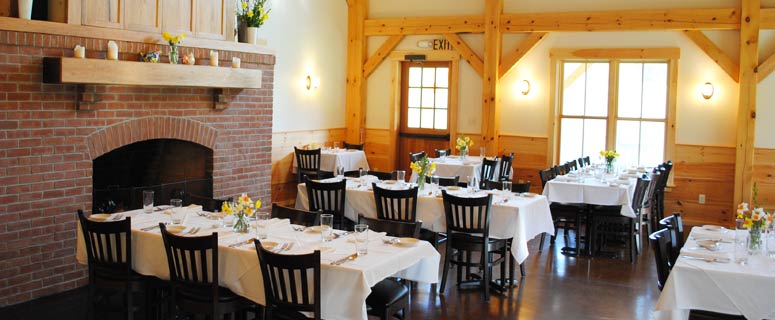 Farm to Table Dining
on Fridays & Saturdays
Specials Calendar
Now open for indoor dining on Fridays and Saturdays!
Beginning May 21, we will add outdoor porch dining.
We are currently offering limited indoor dining for dinner on Fridays and Saturdays by reservation only.
Everything is a little bit different for both guests and staff as we implement Covid 19 safety protocols, but we hope that you will be able to enjoy the beauty and bounty of the farm, Chef Mike's delicious meal offerings, and feel at home with our Cloudland hospitality. We also ask for your patience as we navigate through all of the changes.
We want you to be informed about dining with us.  Some of the procedures/changes include:
– Please wear a face mask on the premises except when you are seated at your table.  (Our staff will all be wearing them too.)
-When you are walking to your table, the restrooms, or back to your car, please follow physical distancing requirements.
-Our staff will be disinfecting bathrooms and high touch surfaces throughout the day and evening.
Please arrive at the time of your reservation.  Your hostess or server will ask if you would like a few minutes to enjoy a refreshment at your table before we begin meal service or if you want us to begin food service immediately.
We will be accepting cash, check or credit card for payment and if you have a "Tapable" credit card, Apple Pay or Google Wallet, the transaction can be "touchless".
We are BYOB, but we will no longer offer community ice buckets for chilling wine so feel free to bring a small cooler or bag with an ice pack to keep your wine chilled.  We can provide ice if needed. We also offer a selection of non-alcoholic beverages for those who would like one.
~~~~~~
Chef Mike Borraccio prepares dishes made from ingredients that are grown right here at Cloudland and from other local organic farms. Absolutely everything we serve is made from scratch!   All meals will utilize seasonal ingredients and will include beef, pork, chicken or turkey grown at Cloudland. If a member of your party requires a vegetarian entree or has other dietary restrictions, please mention that when making your reservation. All meals are fixed price, and Chef's menu selection for each meal will be posted here by Monday evening of each week.
BYOB if you'd like wine or beer with your dinner. We charge a small corkage fee of $5 – 10 per table (depending on the number in your party) and provide glassware and corkscrews.
If you are looking for a place to purchase wine for your meal at Cloudland, each week Frank Billings, wine purveyor at F.H. Gillingham and Sons General Store on Elm St. in Woodstock selects the perfect wines to complement the Cloudland menu.
Reservations are required and can be made by calling us at (802) 457-2599.
**If you need to cancel your reservation or reduce the number of guests in your party
we ask that you please give us at least 24 hours notice.** 
Friday & Saturday Dinner
~seatings 5 through 7:45 pm~


Special Meals
~seating times vary by event~

A 3-course plated meal that includes appetizer, entree, and dessert.
White linens.

Examples include Burger Nights, Farmer's Suppers, New Year's Day Brunch, and 5 course Tasting Dinners.
Corkage Fee ~ $5 per table or $10 for parties of 5 or more
Children ages 10 and under are welcome to dine for 1/2 price.